"Dress shabbily, and they remember the dress; dress impeccably, and they remember the women, – Coco Chanel said. Our dressing plays a significant role in reflecting our character and signifying what kind of a person we are. People are quick to draw judgments about their personality, depending on we look. To know how to carry ourselves at various places and during numerous occasions is also an art. Most people dress how they feel comfortable, but the same clothes cannot be worn to every event or place. We obviously cannot wear our nightdress to the yoga classes. Or activewear to the workplace. Colors also play an influential role in representing our personality, like blue color symbolizes confidence and reliability; and is best suited to wear at work. Black is a color that is taken seriously and is suitable to wear at work. Yellow is the color of happiness and laughter. In comparison, white represents purity, freedom, and simplicity. So choose your colors wisely.
Key points to remember while dressing up for your work:-
A place where you work holds a lot of responsibility in itself and therefore must not be taken lightly. Your appearance represents what you work for. So whatever you wear at work says a lot about your workplace and you as well. Certain places require a strict dress code to ensure you are finely representing the organization.
An appropriate workplace attire for men includes trousers and collared shirts with a tie and a blazer or crewneck sweater, or even a formal suit for business meetings, paired with formal shoes. Women can wear a formal suit or a skirt suit and pair it with formal flats, heels, or oxfords, with minimum jewelry.
But whatever you wear, make sure you look formal and tidy. Following tips might help you look better at the place you work.
(a) Be who you are-
Represent yourself in such a way that it can be known who you are and what you are. Always dress differently and try to avoid cloning with your mates. Everyone's personality is different, and therefore you must dress according to the way you want others to perceive you. Crisp and proper clothing would give an idea to others how serious you are about your work, and shabby dressing might make them feel the reverse.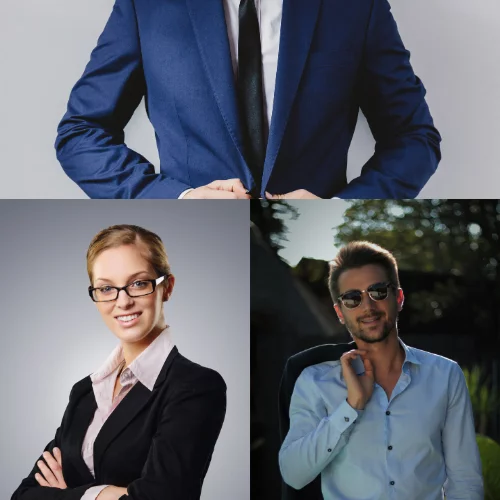 (b) Quality over quantity-
You must have a good collection of clothes for the place you have to visit daily but don't buy anything in the name of just clothes. Try to focus on the fabrics, as the right material would make you feel comfortable for extended office hours and confident at the same time. Avoid wearing clothes that are too tight or too loose. Loose clothes might make you look shabby and tight clothes might be uncomfortable for long hours.
(c) Avoid style statements-
Workwear must not be too casual or stylish unless you are working in a fashion firm.
Refrain from wearing garments with loud prints (such as leafy and floral prints) or loud colors (such as red, neon, and bright colors). For a workplace, always dress smart, sharp, and crisp. Subtle and monotone clothing would be great for business meetings and workplaces.
(d) Casual dressing-
Casual clothes are better when worn at home or out with friends and family. But these must never be worn in a working environment. You can wear jeans only in an environment where it is accepted, such as journalism, advertising, fashion, or arts. Otherwise the trousers and pants would be better suited. Also, wear formal shoes. Casual footwear at a workplace is never a good idea.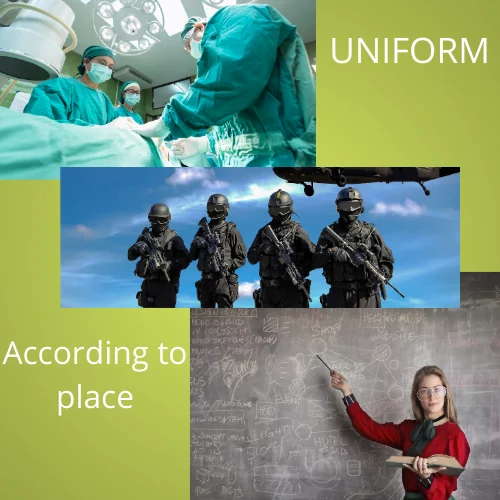 (e) Stick to the uniform-
If you are a teacher, doctor, nurse, defense (army, navy, airforce), or if your office/company has a dress code, then dress according to the code. Do not try to change anything, as these can be noted quickly and might look bad. The only way you can stand out is to wear clean and ironed clothes. Keep in mind that the dress code is not about you but about the reputation of the brand or the company you work for.
(f) Be tidy and well-groomed-
No matter what you wear, be sure you look neat and tidy. For men, your hair must be short and behind your ear. Women can have long hair but try to keep them away from their faces. You can always go for a sleek, low ponytail, which is best suited for working women.
Never dye or color your hair with vibrant colors except black or brown, as they are universally accepted colors. Do not visit the office with an untidy face or clothes. Your face must look fresh and your clothes crisp.
To get more information about how to dress while going to a yoga class or performing yoga, read here…