Links to Install on:-
Steps to Create an account on Google Pay:-
After installation, open the application on your device.
Choose the Language from the option list provided. Click Next.
Enter your mobile number which is linked to your bank account and is in your mobile at present. Click Next.
They will ask for your g-mail account to add. The application will automatically take g-mail account through which you are logged in to your device or if you want to add another g-mail account add that one.
After this, you will receive an OTP on your sim number which you have entered.
Fill the OTP or it will be automatically filled.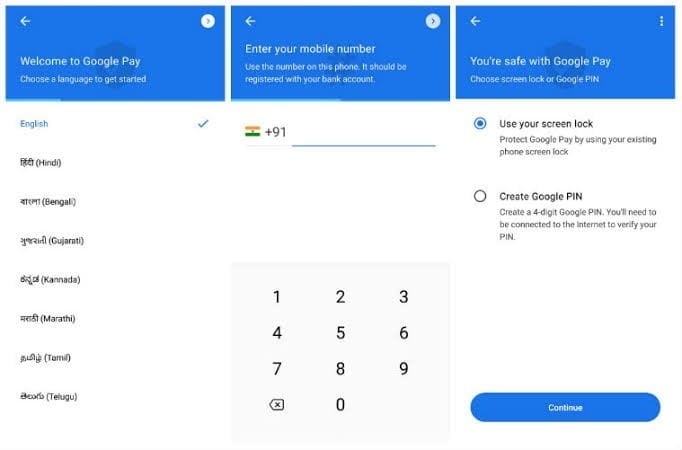 There will be some safety terms provided by application, read them and click on Next.
You will be asked to

Create phone screen lock
Create Google Pin
Choose any one of them, they will be used whenever you will open the application.Congratulations!!!!! Your google pay application has been setup successfully.
How to Add Bank Account on Google pay :-
If you are adding bank account on this application for the first time, then follow these steps –
Open the application, at the top beneath your name. There will be an option displaying Add Bank Account. Click on it.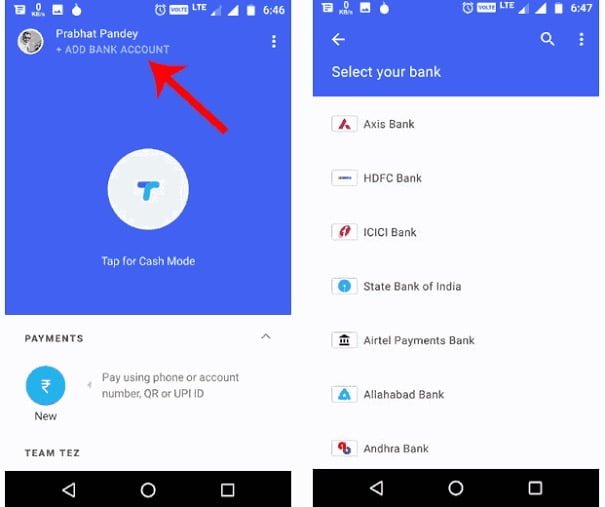 Select your bank from the bank list. If your bank is not shown in the list, then till time your bank has not started the services of google pay.
After selecting bank, select your sim which is linked to your bank account.
After this, the application will send a message to your bank. Which will require some permission to access your message. Click on Allow.
There will be a three step verification, which will include-

Sent sms for verification
Verifying mobile number with partner bank
Finding bank account
After the verification, new page will be displayed. Create UPI PIN, click on proceed.
Enter your last 6 digit number from your ATM card and expiry date mentioned on your card. Click proceed.
Create UPI PIN of 4 digits, enter OTP received on your mobile.
For some banks, your ATM pin will also be asked. Enter the ATM pin. Click on tick button.
Hurry!!!!! Your account is now successfully added to the google pay.